Love clearly is all around. You just have to know where to look, and sometimes it depends only on your point of view. Mother Nature is truly a romantic artist, as we can see in many of its wonderful creations. It has created many natural islands shaped like hearts you can visit all over the world. Uninhabited or not, in the middle of a lake or in the sea, amidst a tropical jungle, the mountains, or in a tropical paradise, there's no doubt they are jewels on the planet. If you want to impress on a date or choose a stunning destination to spend your honeymoon, you'll probably think beyond Paris, Rome or some place a little more exotic. But how about going to a unique and romantic place, like a heart-shaped island? So let's get inspired by a compilation of the most amazing heart-shaped islands in the world.
1 – Galesnjak Island (Lovers' Island) – Croatia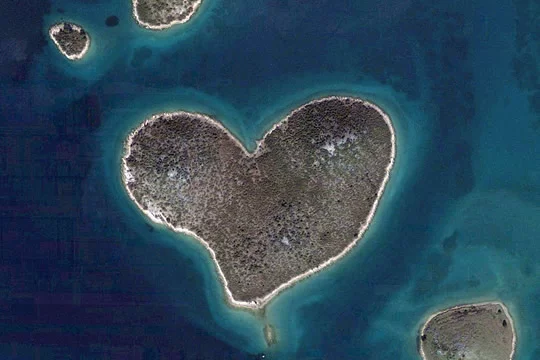 This private and uninhabited small island contains only wild plants and trees and untouched beaches of the azure-blue Adriatic Sea, making it a great spot for couples in love. The island has become a major tourist destination after its perfect heart-shape was discovered on Google Earth in 2009.
Heart-Shaped Galesnjak Island-Croatia on Google Maps
---
2 – Heart Reef – Australia
Located in Great Barrier Reef off Whitsunday Islands, it is a stunning coral formation that has been naturally formed into the shape of a heart. It can only be appreciated from the air, due to its protected status. The reef is a popular icon amongst travelers and is the site of many flight proposals.
Heart Reef – Australia on Google Maps
---
---
3 – Makepeace Island – Australia
It is a private island, home to a luxurious retreat, on the Noosa River in Queensland. This heart-shaped island is nearby beaches, lakes and other wonders of Australia's Sunshine Coast.
Heart-Shaped Makepeace Island-Australia on Google Maps
---
4 – Heart-shaped Island – South Korea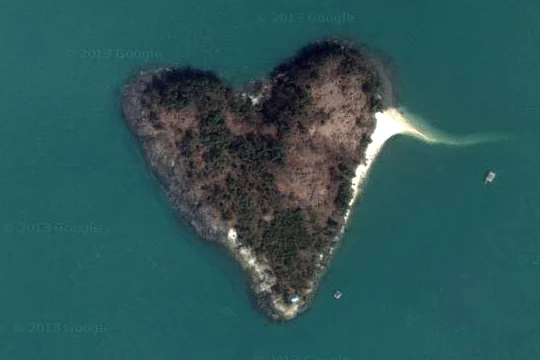 Located in the West Sea, this natural heart-shaped island is uninhabited with a large beach along its eastern coast.
Heart-Shaped Island-South Korea on Google Maps
---
5 – Blueberry Island – Canada
Located in the Laurentian Mountains, just 45 minutes north of Montreal, this forested island has a lovely sandy beach and its only accommodation is a red cedar log cabin. The perfect heart-shaped island was put for sale, in November 2012.
Blueberry Island on Google Maps
---
6 – Tavarua Island – Fiji Islands
Surrounded by a coral reef, this romantic heart-shaped island is nestled in the South Pacific Ocean. Located near Viti Levu, Fiji's main island, Tavarua Island is home to a luxurious all-inclusive resort.
Tavarua Island on Google Maps
---
---
7 – Heart-shaped Island – Orinoco River – Venezuela
Flying over the Orinoco River, in Ciudad Bolívar, hidden in the peace and tranquility of the Venezuela's tropical jungle, you can see a luxurious heart-shaped island.
---
8 – Harbor Island – Maine – USA
Located in the middle of Bucks Harbor, Brooksville, Maine, this forested heart-shaped island is home to a modest cabin on its shore. Besides the bay being a very popular summer colony, Harbor Island offers privacy and peace. The island was sold to a state-wide land conservation organization in order to protect this natural beauty.
Harbor Island – Maine on Google Maps
---
9 – Isla Corazón (Heart Island) – Lake Mascardi – Argentina
Isla Corazón is a beautiful Patagonian's sample of a heart-shaped island, located in the middle of the Mascardi Lake. This tree-covered island is best viewed from the East side of Gutierrez Lake. Actually, it is not a perfect heart-shaped island. It will only take on the heart shape when viewed from a specific angle.
Isla Corazón – Argentina on Google Maps
---
---
10 – Heart-shaped Island – Lake Walchensee – Germany
Located in the middle of the Bavarian Alps, it is identified as a small isle positioned in Lake Walchensee, one of the deepest lakes in the country.
Heart-Shaped Island Walchensee – Germany on Google Maps